You don't need an expensive ELMO projector to serve as your document camera. Use your iPad and this companion app called Stage Pro. The app is just $5.00. Buy a Belkin light table for less than $150, two options discussed below, and you are in business.
This holds your your iPad in an adjustable frame, and uses your built in camera as the video projector. It comes with a portable LED light for illuminating the documents or items displayed. Connect it to your projector or monitor.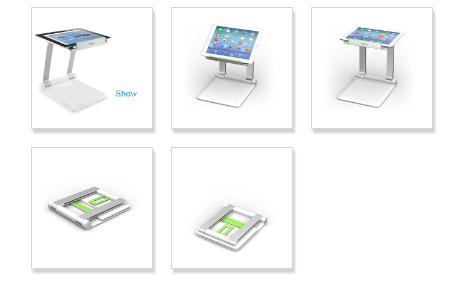 Belkin portable Tablet Stage
This is a smaller, more portable version of a light table. You can also use it to simply hold your iPad in place when using it at a podium or from a table.
This $5.00 app gives you so much more than just a live image. You can add a document to your screen and use the pen to draw connections between an item and something described in writing. You can bring up a white board and simply draw on it. Use your imagination and find ways of connecting your visual content to your audience.