Trialpad for ipad
Trialpad is a full blown document presentation app that runs on an iPad. It allows you to create highlights and callouts to document or images on the fly. You can create these in "war room" mode and, when ready, project them to your audience. Documents, videos, and images are easy to import and organize.
Trialpad for iPad is one of three apps that LItsoftware has developed to work together. The other two are called TranscriptPad and DocReviewPad, which also run on an iPad. Bought together, the suite costs about $150. Collectively, these three apps are powerful tools for the lawyer that likes to live on the road and in court with an iPad.
importing documents
TrialPad is set up to import documents, video clips, and the like from four different cloud storage services: Dropbox, box, Citrix ShareFile, or WebDAV. Once you have opened up TrialPad and created a new file folder for your case, you will see an icon for a cloud on the left side of your screen. Clicking on it opens up this dialog box:
Here you can link your cloud storage account with your TrialPad app, and use it to add selected files to your case folder:
In this window, you first click on "Select Files or Folders", then click on each folder or file you want to import. You will then be given an option to pick the case folder into which you want the files imported. Once the materials are in your case folder, you are ready to organize them anyway you want. And they are now ready for presentation.
Looking inside this sample case file, you can see text documents and images. Selecting one of them places the document or image on the presentation screen to the right. The tool bar at the top allows you to create a "Callout" by simply drawing a box with your finger or stylus around any part of the image. You can also "Highlight" your callout. The "Pen" feature allows you to draw on the image. You can "Redact" sensitive information. And the "Laser" feature allows you to use your finger or your stylus on the screen as a pointer to any key piece of information. The image in the lower right showing a single and a double page allows you to bring up two pages side by side. Some of these features are displayed in the screen captures below:
All of the screen capture images above were taken before the iPad was connected to an external monitor or projector. Once connected, either directly using an HDMI cable and the appropriate dongle (more on this below) or wirelessly via your Apple TV (see the section of the website giving step-by-step instructions for making that setup, you are ready to present. Once connected to an external source, you can toggle the "Output" switch to the right as indicated in the image below. Note that next to the "Output" toggle button are three options: "Blank". "Freeze". "Present".
Start with the Blank option highlighted. This allows you to pull up the desired images and create and callouts and highlighting without the audience seeing your preparation. Rather, your presentation monitor or projector will simply display a black screen with the words in white mid-screen: "TrialPad for iPad." Then, when you are ready to present, that's right--you touch the "Present" button. Whatever images you have built on the display screen on your iPad will now be presented. And don't worry, the audience will see only what is on the display screen and not the menu options visible on your iPad, which is in "war room mode." Below is an example of what you see and what the audience sees when you "present" something that you have created on your screen: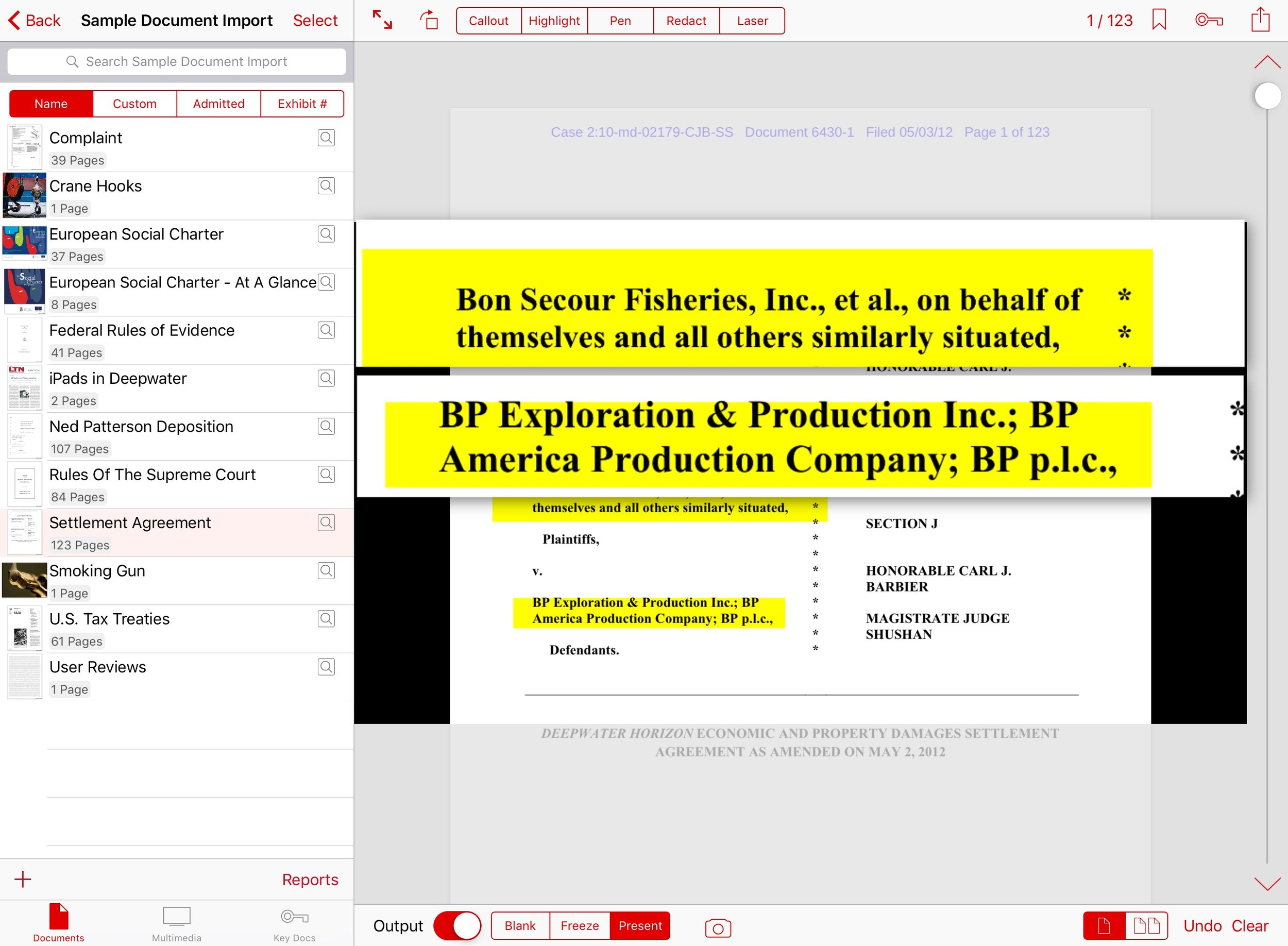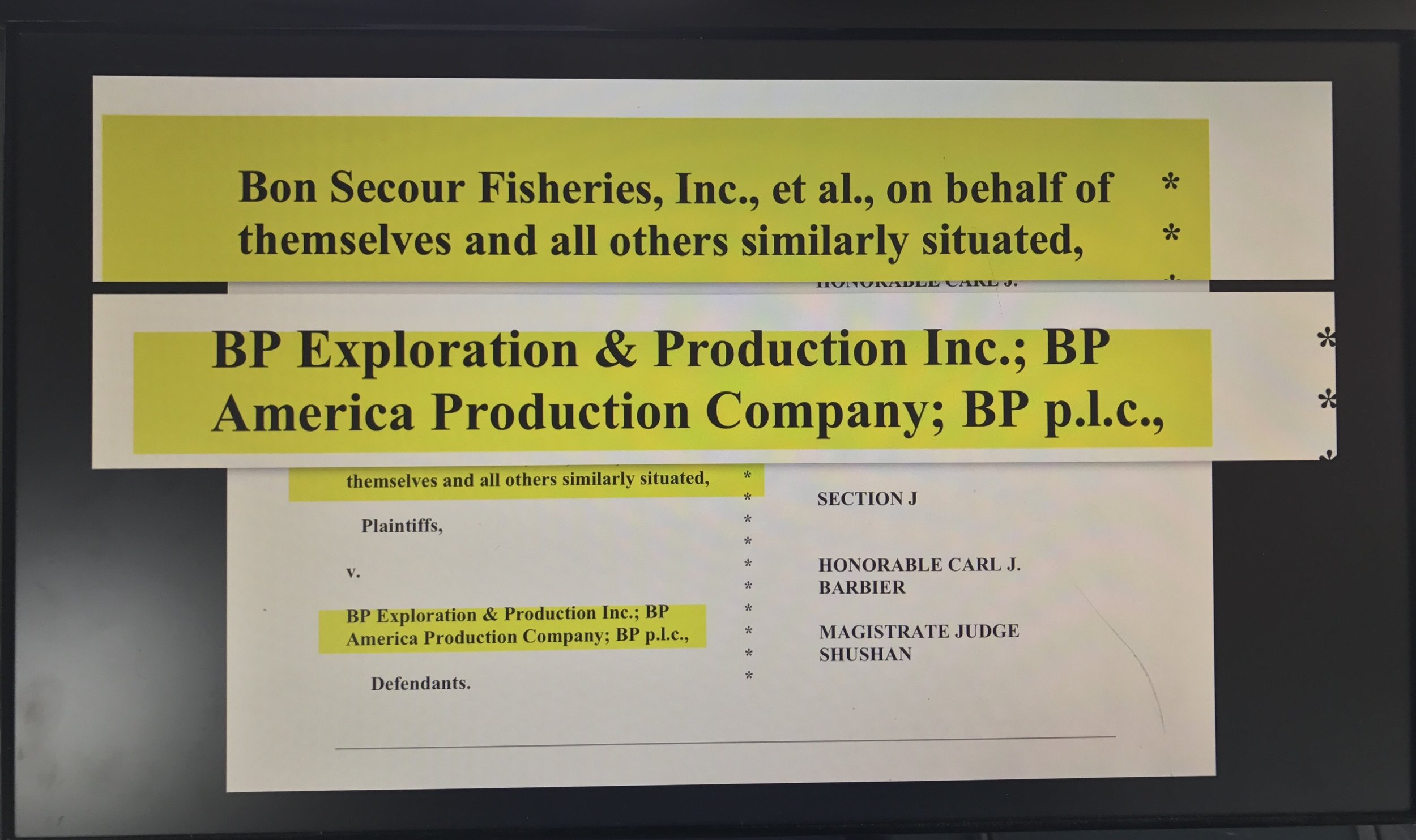 This is what the audience sees when you are connected to a projector of monitor, toggle the "Output" button, and hit the "Present" option. When you want to remove this view, and go back to the black display showing only "TrialPad for iPad", simply hit the "Blank" button, which takes the image off the audience's screen. The "Freeze" option does just that, freezes in place whatever you are presenting to the audience.
Tom Oakes has put together a three page primer on TrialPad, posted below.
Tutorials
Here are some helpful tutorials that LitSoftware has put together on TrialPad for iPad.